Credit rating is done by organizations who grade the credit trustworthiness of a borrower. This is usually done against the debt issued and the amount of time taken to pay it back. It is structured as a code which is in the form of an alphanumeric series. In India the credit rating industry has taken huge leaps in recent times. The main players are CRISIL, ICRA, CARE, ONICRA, FITCH and SMERA. The biggest giant amongst these is CRISIL enjoying over 60% of the market share in the country. This is mainly due to the fact that it offers an all round service from manufacturing to the SME sectors. Agencies like SMERA target niche sectors such as SMEs.
ICRA
It was set up in the year 1991 with the largest shareholder being Moody's. It is inclined towards the MSME sector and enjoys being an agency set up by leading financial institutions of the country.
CRISIL
It is the largest agency in India and was set up in 1987. It also enjoys an invested interest in it by the world's largest credit rating agency Standard and Poor's. It has rated over 5000 SMEs in the country till date.
CARE
It is the newest company launched in 1993 short for Credit Analysis and Research Limited. It was set up as a committee for the credit raters in India.  It has completed over 7500 rating assignments since its formulation.
CRISIL Credit Rating scale for Long-Term Instruments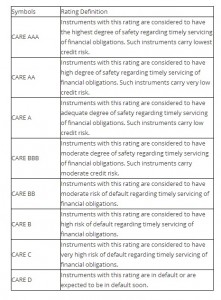 CRISIL Credit Rating Scale for Fixed Deposits
CARE Rating of Debt instruments Long/ Medium-term Instruments (NCD/FD/CD/SO/CPS/RPS/L)
ICRAs Long-Term Rating Scale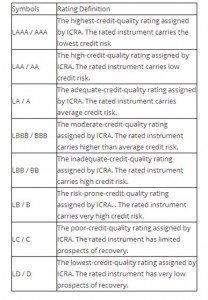 ICRAs Medium-Term Rating Scale (only for Public Deposits)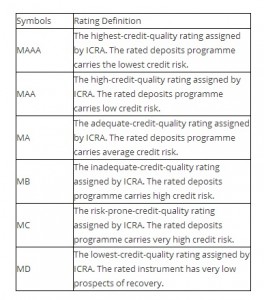 Source : CRISIL, ICRA, CARE websites.
Please refer to websites of respective agencies for exact details