On direction of Central Government, it has been made mandatory to link Aadhaar card to your bank account latest by 31st December 2017.
In case of failing to seed your Aadhaar number to your bank account, your bank account will be blocked and will only be available to further usage once you have seeded your Aadhaar number with your bank account. In case of people who have multiple bank account it is important for them to seed their Aadhaar number to their bank accounts individually.
Eligibility for Aadhaar
Individuals who are resident of India, and can satisfy the verification process laid down by the Unique Identification Authority of India (UIDAI) can apply for Aadhaar card. This includes NRIs, PIO's, OCIs as well as foreigners, living in India.
According to Targeted Delivery of Financial and Other Subsidies, Benefits and Services Act, 2016, UDAI clearly defines resident who has resided in India for a period or periods amounting in all to 182 or more in the 12 months can enrol for Aadhaar card this includes NRI's as well.
Eligibility to link Aadhaar to Bank
Individuals who hold bank account within the boundary of India and are eligible to apply for Aadhaar can link their bank account to their Aadhaar card. With only exception being NRI's who need to fulfil the basic criteria to be eligible for linking their bank account with their Aadhaar card. Hence, it is suggested that they disclose their non-resident status with proof to their bank. Further according to latest update from central finance ministry Aadhaar will be sought for all transactions for an amount Rs.50, 000 or above.
How to Link Aadhaar to your bank account
Every bank provides two process of linking your Aadhaar to your bank account one is online, in this case all you need to do is visit your banks website and click on link your Aadhaar option displayed on the page and enter your Aadhaar number where asked with your accont number. On successful linking a confirmation SMS and email will be generated to your mobile number and email id registered with the bank account.
People can also link their Aadhaar to bank account by visiting their branch of account, fill up the Aadhaar linking form with 2 copies of photo and scanned or Xerox copy of their Aadhaar card. On approval of linking a SMS will be generated to the customer's mobile number registered with the bank.
Some bank nowadays provides facility of updating their Aadhaar information to their bank account by SMS facilities for more details on this facility please visit your bank website.
Which bank account will the LPG subsidy credited to
In case of individuals with multiple bank accounts, your LPG subsidy will be credited to the bank account which has been recently updated with Aadhaar card number, i.e. the latest updated bank account with Aadhaar card number.
How to check whether bank account is linked to your Aadhaar number
There are three different method of checking whether your Aadhaar number is linked to your bank account or not. The methods are as follow:
In the first method please visit your banks website and under request tab of your bank account you will see the option of link Aadhaar to your bank account. Click on the link, to see whether your account is already seeded to your Aadhaar number. In case if the account is linked it will display your Aadhaar number, if it is not updated you can update your Aadhaar number to your bank account from the same link. The image of the verification page is as below for HDFC bank: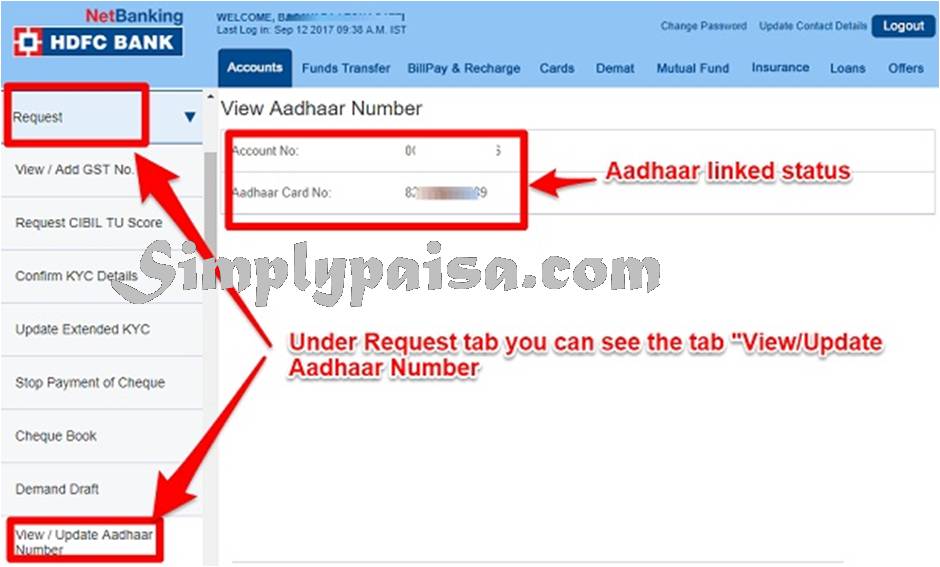 In the second method you can check whether your bank account is link to your Aadhaar number from the UDAI website, on the homepage of the website visit the Aadhaar service under Aadhaar service select Check Aadhaar & Bank Account Linking Status on clicking on this link it will take you to another page the verification checking page is as below: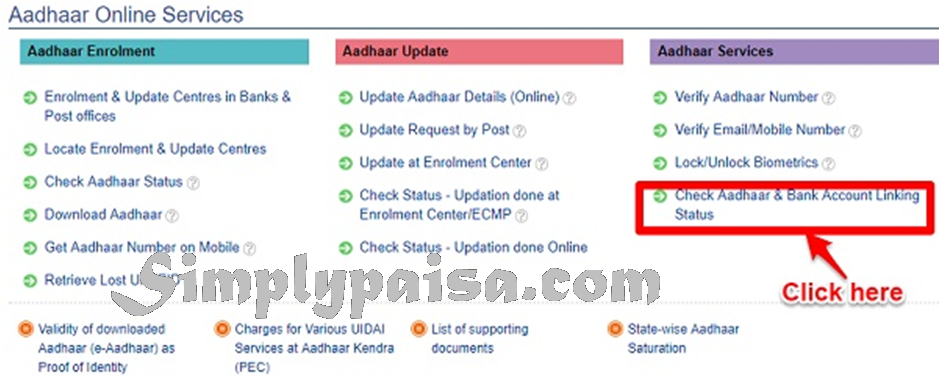 On clicking on the above link as shown in the image it will take you to another page where you have to enter your Aadhaar number and also the security code visible to you. Then the OTP will be sent to your registered mobile number. Then you have to enter the OTP and click on the tab Login. The image of the process is as below:
After this step has been confirmed it will take you to the authentication page which will display whether your Aadhaar is linked to your bank account. A successful seeding will display the latest linking of Aadhaar card to your bank account as displayed in the image below:

This page will display a green tick mark if your Aadhaar is successfully linked to your bank account.
The third and last method of verifying whether your bank account is linked to your Aadhaar card is as below:
This is a offline process, here you can check the status using mobile without internet service by using *99*99# service.
*99*99# is a USSD based value added service from NPCI that facilitates the customers to check the status of his/her Aadhaar number seeding/linking in the bank account.
The process of verification using the *99*99# service is as below:
• Dial *99*99# from your mobile
• This opens up a new screen where you need to enter your 12 digit Aadhaar number
• After input a confirmation screen will appear.
• Confirm the Aadhaar number by entering 1 and submit.
• After this a confirmation screen will show the Aadhaar number, name of the bank to which the Aadhaar number is linked and the last update.
The verification process displays the last bank account that has been linked with Aadhaar card in case of multiple account, it is suggestible to visit your bank website to verify whether your Aadhaar card has been seeded to your bank account or not.