Before understanding these types of loans it is necessary to understand what a Warehouse Receipt is. It is a document stating the ownership of the goods kept in the warehouse. It is issued by the Warehouse to individuals (could be partnerships or Pvt. Limited companies as well) who have deposited their goods at the Warehouse. There are two types of receipts provided by the issuer. These could be Negotiable Warehouse Receipts or Non-negotiable Receipts. The latter, non-negotiable receipts cannot be transferred from one person to another (can't change hands).
Under the Warehouse (Development and Regulation) Act 2007, Warehouse Receipts have been made negotiable for sourcing funds. These Agricultural produce is very dependent on the quality of the monsoons which makes the return from Agriculture unpredictable and very uncertain. This is the reason the birth of NWRs (Negotiable Warehouse Receipts) in a bid to curb distress sale by farmers. The NWRs ensure the transfer of ownership of the commodity without its physical delivery.  The warehouse receipts reflect the value of commodity deposited at market rate.
Usually the purpose of such loans is to provide liquidity to farmers or traders either to prevent the farmers from making a distressed sale of their product at the time of low prices. As for the traders, it is provided for the purchase of raw materials for the Food and Agro Processing Industries during the harvesting season and mostly when the prices are low.
Around 115 agricultural commodities and 26 horticultural commodities have been notified for the issuance of NWRs. Currently around 350 warehouses are allowed to issue such NWRs. These receipts are secured documents and printed in the security press of Govt.India.
These loans are eligible under two broad categories:
Loan Against Warehouse Receipt for Farmers
Loan Against Warehouse Receipt for Traders and Processors
The farmers are mostly eligible for loans up to INR 15-20 Lacs whereas the traders can avail loans up to INR 5 Crores as well. Processors of Agricultural Commodities can avail the maximum quantum of loans. There are lenders in India that provide up to 100 Crores to Agricultural Processors.
Loans that are secured by agricultural commodities can be provided by lenders in two broad ways.
Hypothecation/Pledge of Goods
Against Warehouse Receipt
The scope of this article is limited to the 2nd type. Before I move on to that, I shall explain loans against hypothecation or the pledge of goods very briefly. This system is prevalent for small private warehouses where the entire warehouse is occupied with commodity belonging to a single entity. The commodity of the warehouse is then pledged to avail this loan.
Features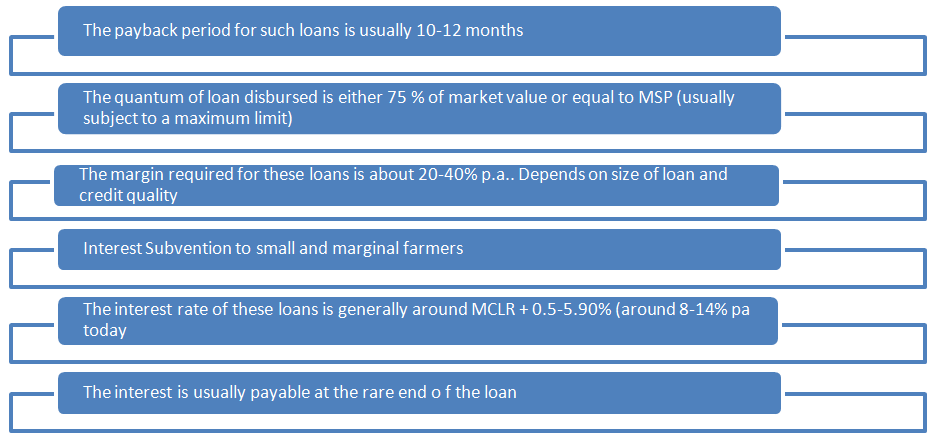 The amount of Loan disbursed is dependent on the quality and nature of the commodity, its market price and minimum support price. The interest charged also depends on the norms of the lender.
The margin payment required for the loan (the amount from the total loan requested that won't be paid by Bank and has to be paid by the borrower) differs as per the commodity. Certain commodities such as rice, wheat and Rubber only require about 20-25% to be paid up as margin. Whereas commodities such as coriander or potato need a margin as high as 40% to be paid by the borrower
Eligibility of Borrower
The eligibility criteria for the Loan against warehouse receipt are broadly similar but certain lenders may provide certain special eligibility requirements. The common ones seen across majority of lenders in India have been noted below:
Farmers that have a good credit record
Other farmers having no dues/no objections from other banks
Food and Agro based processing unit using agriculture commodities as raw material.
Proprietorship companies/ Partnership firms/ Corporates/ Individuals trading in agricultural commodity and Arthiyas (in rural and semi urban areas) can avail such loans.
An advance could also be provided against produce stored separately in his rural godown or house.
The warehouse receipts should be from approved warehouses. The approved warehouses are:
Central warehousing Corporation(CWC)
State Warehousing Corporation (SWC)
Godowns/Warehouses managed by Collateral Management Agency (CMA)
National Bulk Handling Corporation Ltd. (NBHC) and National Collateral Management Services Limited (NCMSL).
Primary Agriculture Cooperatives Societies' godowns
Most lenders specify their own list of commodities that will be accepted by them
Documents Required For Such Loans
Pre-approved documents
Copy of Land Documents
Address Proof of Applicant
Photo ID/Signature Proof
Warehouse receipt endorsed in favor of bank
PAN Card for Partnership Firm/Company/Proprietor
Registered Partnership Deed
Firm Registration Certificate and ROF Search Form C ( Partnership)
Latest Form 32 Registered with ROC
Memorandum of Association and Articles of Association
Financial Documents
Proof of Dealing in Commodities