IRDA released Individual Death claim settlement number in its Annual Report 2013-14 on Jan 08, 2015. Death Claim settlement for Individual refers to the numbers of Life Insurance claims which were filed due to the death of any individual and are settled by the insurance company. As such, it is an important parameter for confidence on your Insurance Company. Understanding it better, if 1000 claims are filed with any Life Insurance Company and they settle 950 of them, then the claim settlement ratio will be 95%. The repudiated claims means ' to refuse to accept or reject as untrue or unjust'.
The Table below show the number of Total claims filed, Claims settled and claims repudiated numbers in terms of count of policies and benefit amount. (click on the image for full screen view)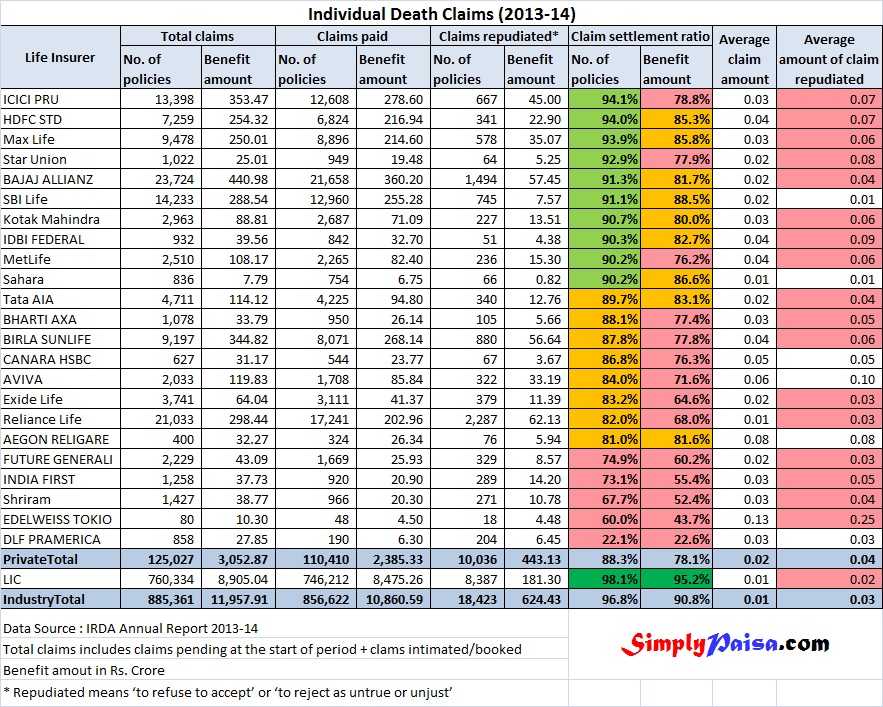 Few observations from these numbers
1. The private Insurance companies are still lower in number as well as ratio when compared with LIC which settled more than 98% of claims.
2. Among the Private Insurers, ICICI PRU, HDFC Standard, Max Life, Star Union, Bajaj Allianz, SBI Life, Kotak Mahindra, IDBI Federal, MetLife and Sahara has settled more than 90% claims. Though ICICI, Star Union and Metlife are having claim settlement of less than 80% in terms of benefit amount.
3. The Claim settlement for Private Insurers are about 10% lower than that of LIC.
4. The count of claims files with LIC are 6 times higher then that of all claims filed with Private Insurance companies.
5. In most of Insurance companies, the average value of the claims repudiated is higher than the average value of claim filed which means the claims repudiated are of higher value then their average.
6. All the Private Insurers are below 80% in claim settlement in terms of benefit amount. The average is 78% that is about 17% lower then that of LIC.
7. On the whole, Industry on an average settles almost 97% claims.
However before coming onto any conclusion, we should know the limitations also.
This report includes all schemes of that insurance company and do not bifurcate between traditional or tax saving plans.
The report do not highlight the reasons of rejection. However normally the reason for rejection remains the concealment of facts or incomplete documentation as the rejection reason so it is important to give complete and true disclosures at the time of buying insurance.
The new Life Insurance Companies does have the lower claim settlement of ratio and older companies will have the higher claim settlement ratio. You may see this being the important reason for better LIC numbers.
Why Claim Settlement Ratio is lower for Private Companies
The major reason behind this been the age of these companies. These companies are very new as compared to LIC. ANy new Insurance companies will be having higher Newer Sales to Existing AUM then any older company. Now the claims of the newer sales are more prone to concealment of facts by insured and thus more chances for repudiation. For example, if their are two claims in which one policy was taken 10 years back and another one just a year back. The chances of repudiation for the policy taken a year back is far more than the other. It may be due to the concealment of any chronic disease or habit.
As  the concluding remarks, would definitely reiterate that though Claim Settlement is one the important parameter for selection of Life Insurance policy however the premium and other benefits or riders should be looked upon before buying any Insurance.